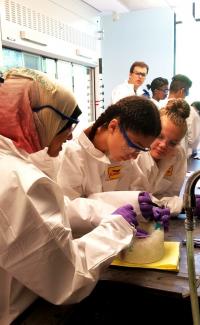 Yale Pathways Summer Scholars is a free two-week summer science program for rising tenth, eleventh, and twelfth grade Pathways students. Each summer, Pathways Summer Scholars have the opportunity to select from a variety of STEM workshops collaboratively designed and taught by Yale faculty and graduate students. Summer 2018 offers new topics and workshops, including but not limited to Understanding GMOs - Science, Philosophy, and Dialogue; Disorders of the Brain; and the Chemistry of Beauty.Current Yale undergraduates and graduate students serve a key role as teaching assistants and mentors in the program.
Rising seniors are also eligible to apply to a residential program, living in the Yale student dormitories and taking part in college preparatory programming in addition to attending workshops during the day.
Summer 2018 Application Deadline: TBA
Summer 2018 Program Dates: July 15-27, 2018
Pathways to Science students currently in 9th through 11th grade will receive applications in the mail in January 2018. 
The strength of the Summer Scholars curriculum lies in broad-based support from the Yale community. In summer 2017, 118 Yale community members were involved in the program—supporting the program by teaching classes, serving as residential advisors, welcoming students into Yale research laboratories, and supporting the planning and preparation for the program.
Hands-on laboratory courses form the cornerstone of the Pathways Scholars curriculum, exposing students to college-level science courses and sparking their curiosity about new scientific fields. In summer 2017, students selected from 21 STEM workshops. Workshop topics included the Physics 
of Atmospheres, Sensory Physiology, Using Computers for Simulations & Modeling, Evolution and Medicine, and more. During the program, students could be found manipulating single molecules with chemistry professor Ziad Ganim; dissecting worms and crayfish with medical school research scientist Jack Kronengold; building string instruments in Yale's Center for Engineering, Innovation & Design; extracting iron from breakfast cereal; or testing the toxicity of chemicals in Yale's Center for Green Chemistry. 
Rising high school seniors also completed a personal college essay in an intensive t
wo-week writing workshop and engaged in sociological discussions during Doing College seminars. These sessions explored the broader social issues that influence the successful completion of a college degree, including topics related to transitioning to college life, paying for college and student debt, understanding inequality in the higher education system, and finding the right college. Moreover, by living in Yale student dormitories, rising seniors experienced what life is like 
Outside of daily laboratory workshops, students participated in a variety of enrichment activities that provided opportunities to interact with Yale scientists, learn about cutting-edge research, and tour Yale laboratories and research collections.